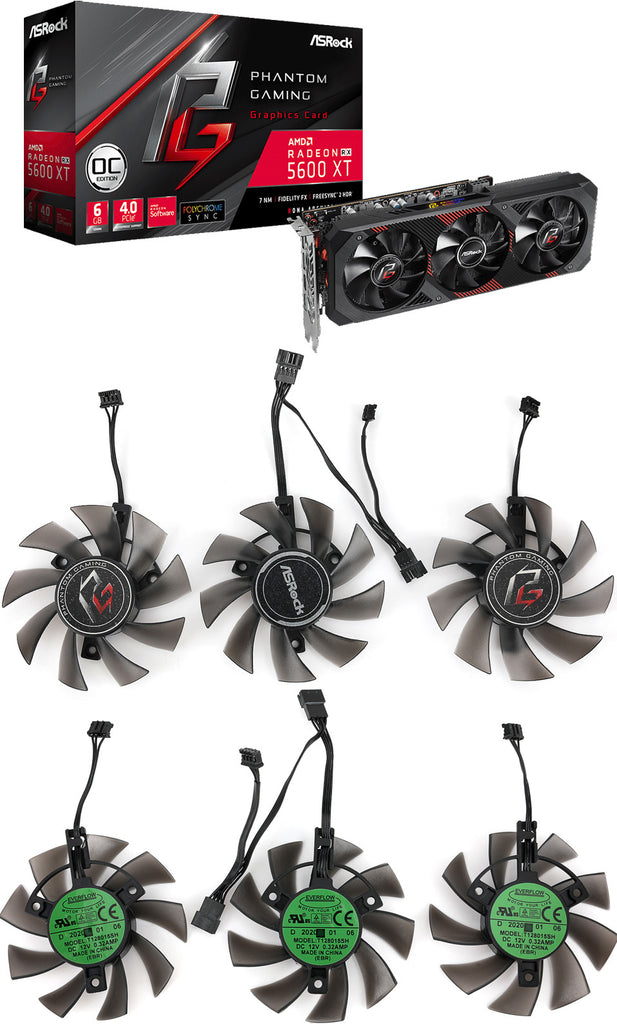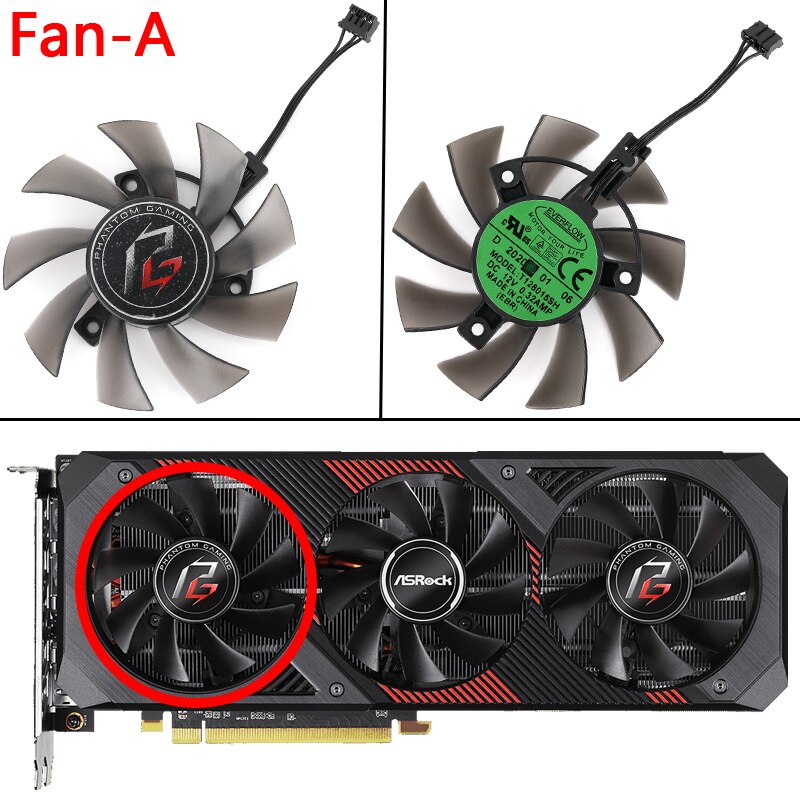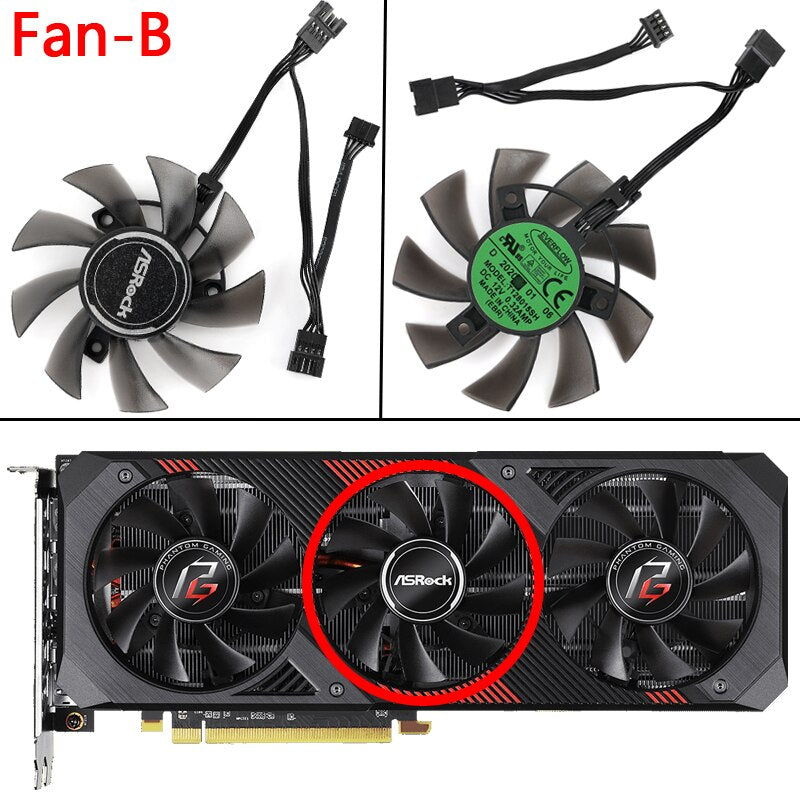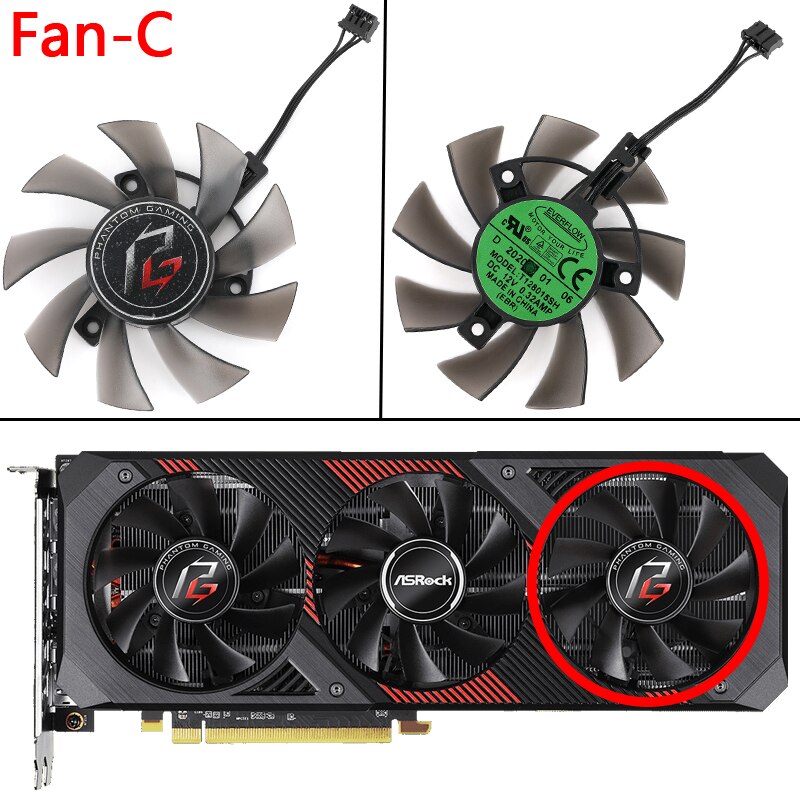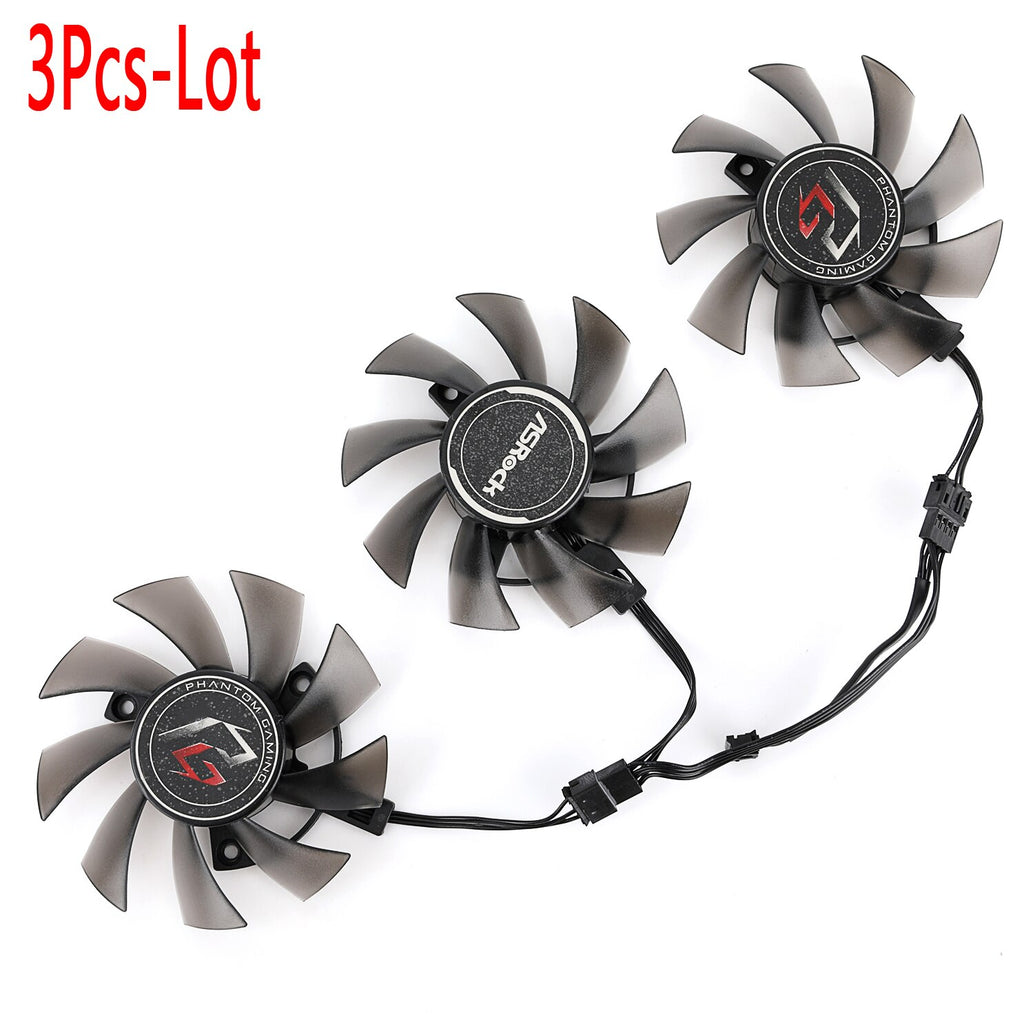 After-Sales Guarantee

90 days new replacement

Professional customer service

inRobert.fan@gmail.com

Wordlwide Shipping

48 hours shipping

Fast Air Shipping

7-14 days delivery
75mm Cooler for ASROCK AMD Radeon RX 5600 XT Phantom Gaming D3 6G OC
Application:
For ASROCK AMD Radeon RX 5600 XT Phantom Gaming D3 6G OC
Attention:
1. Do not buy according to the video card model when you buy a video card fan, because the same type of video card has a different fan, any question, please feel free to contact me.
2. This item is a video card fan replacement. Does not include mounting screws, heatsink or other.
3. Please measure the fan size and mounting hole distance to make sure it will fit your graphics card.
Specification:
Brand: Everflow

Model: T128015SH

Voltage: DC 12V

Current: 0.32 amp

Fan Size (L x W x H): Approx. 75mm*75mm*15mm

Mounting hole distance: Approx. 40mm * 40mm * 40mm (center to center)

Power connector: 4-pin system connector
Origin :  China
Compatible CPU : all
Fan life :  20000 hours
Noise :  25dBA
Fan size :  75MM
Bearing :  Hydrodynamic bearing
Lines :  4 Lines
Type :  Fan
Connector power :  4- pin
Application :  Video card
Power :  4.2W
Features :  RGB support
Model Number :  T128015SH
Radiator Material :  Aluminum
Packing :  No
Certification :  NONE
Fan speed control :  2000 RPM./MIN.
Air volume :  28CFM
Related 1 :  Graphics Card Replacement Fan
Relate 2 :  Video Card Fan for ASROCK
Relate 3 :  Fan Video Card 75mm
Relate 4 :  Cooling Graphics Fan
Related 5 :  Graphics Card Cooling Fan
Relate 6 :  Replacement Graphics Card GPU
Relate 7 :  Video Card Fan Cooler
Relate 8 :  Video Card Fan Coolimh
Relate 9 :  Video Card Fan Replacement for ASROCK 75mm
Minimum unit :  100000015
Sold At :  sell_by_piece
Each package :  1
Logistics weight :  0.120
Logistics size - length (cm) :  11
Logistics size - height (cm) :  3
Logistics size - width (cm) :  10
After-Sales Guarantee
1. 90 days guarantee time of GPU fan from inRobert. If the fan stop working in 90 days, contact us we will resend a new fan for you.
2. If you received a broken fan or the fan is not work, please contact us, we will resend a new one for you!
3. If you bought the wrong fan for your GPU, please contact us before you return it, we will recommend you correct fan, and send you the correct fan!
4. Any questions about graphics card fans, you can feel free to contact us, we will give you a professional answer.

Our Youtube Channel : "inRobert Fan" on youtube, we will keep uploading more video of GPU fan, to tell you how to replace the fan for your graphic card.